Undervault 0.5.0 with balancing
---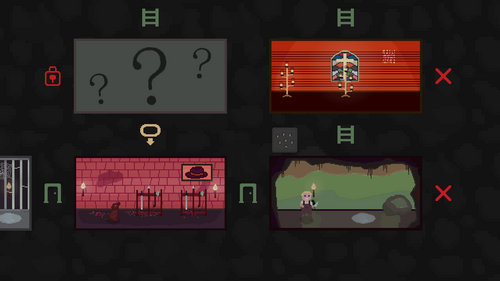 Greetings! New version is live with some new, hot features.
Global leaderboard
As said, daily challenge now includes global leaderboard. This works only for the newest version of the game.
Music
Music is added. Including main menu theme, few background tracks, trade and battle music.
Balancing
I played the game a lot for the last few weeks. Except feeling tired of it I've also come to the conclusion that game is too hard in a bad way. Sometimes it's just unfair. To resolve it I made such changes:
Reduced crit. chance for all enemies and rebalanced enemies stats to match player strength
Increased chance to find equipment
More libraries and higher chance to find library card
Revisited equipment prices and stats
Changed late levels settings
Hope this would help to improve overall game experience.

Other changes
Spikes are not spawned in start and exit rooms
Added room reveal animation
Low tear armor rework
Added levels variations. This means the same level might have different room probabilities. For example, in first run level 6 has no bedroom, in second run level 6 has no chapels, but has higher treasury chance
Bugfixing and other minor improvements
Files
Undervault (windows)
35 MB
Version 0.5.0
Oct 15, 2017
Version 0.5.0
Oct 15, 2017
Version 0.5.0
Oct 15, 2017
Undervault (android)
38 MB
Version 0.5.0
Oct 15, 2017
Version 0.5.0
Oct 15, 2017